Dual 4 Point Terminal Busbar
VTE presents our Dual Terminal Bus. This systems allow for multiple connections to positive and negative systems on one connection block. Each connection side can maintain multiple connections, of differing size.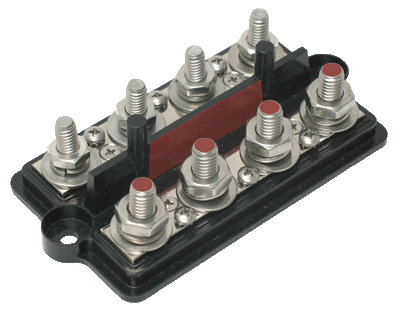 3/8" Positive / 5/16" Negative Bus - 738834N0N14
RECOMMENDED:

Positive Connections: 3/8"
Negative Connection: 5/16"
---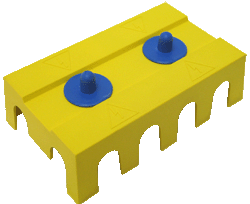 738N3P05
Multiple connection points, to accomodate multiple power connections
Nickel Plated Brass contact plate: high current & anti-corrosive
Secure way to consolidate ground systems
Max Amperage: 250 amps @ 12 vdc total
Max Voltage: 48 vdc
Positive: 3/8" stainless steel connection posts
Negative: 5/16" stainless steel connection posts
Both polarity sides offer 3 smaller 15amp connection points
Base Material: Glass-Filled Nylon (Red & Black)
Mounting screws: #10 (not included)
Mounting center: 4.9 in
Optional cover not included
Also available with 3/8" connection posts on both sides
Also available with 5/16" connection posts on both sides
To meet some safety guidelines, protective heat shrink tubing must be used on terminal barrel to insulator against accidental shorts.
---
For quantities under 25 please go to
VTE Warehouse
USA Factory / Headquarters
European Headquarters
Local Distributor (US)
VTE Inc.
5437 Robinson Rd
Pellston Mi 49769
United States
PH: 1.231.539.8000
FX: 1.231.344.5914
Email: info@vteworld.com
www.vteworld.com
VTE Europe BV
Trapgans 8 J
Ankeveen 1244RL
Netherlands
PH: 035-6565560
FX:
Email: info@vte.nl
www.vte.nl
VTE Warehouse
5437 Robinson Rd
Pellston MI 49769
United States
1.231.539.8000
1.231.344.5914
info@vtewarehouse.com
www.vtewarehouse.com